About Milton Leon, MD, Ph.D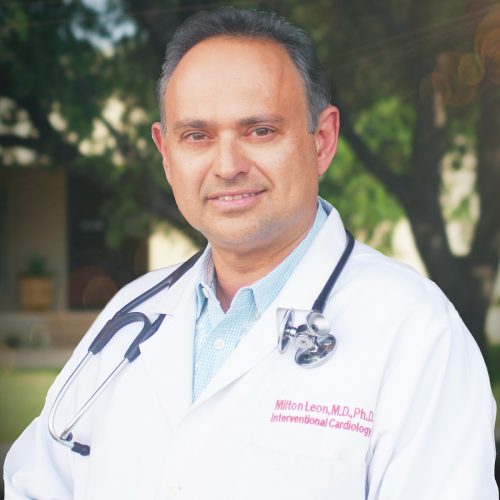 Dr. Milton Leon, MD, PhD. has been performing complex cardiovascular and endovascular procedures to improve the blood flow to the lower extremities for more than 20 years. Dr. Leon is board certified in Interventional Cardiology and Cardiovascular Disease and is a fellow of the American College of Cardiology (FACC). He received his medical degree from the University of Patras School of Medicine, Magna Cum Laude. His postgraduate training continued with residency in Internal Medicine at the University of Connecticut School of Medicine. Dr. Leon completed a cardiovascular disease fellowship in Cardiovascular Diseases at Massachusetts General Hospital Harvard Medical School in Boston, MA and in Cardiovascular Medicine at the University of Texas – Houston Medical School in Houston, TX.
Advanced Training
Dr. Leon specializes in consultative and interventional cardiology, peripheral vascular interventions, and nuclear cardiology imaging. Dr. Leon is among the leaders in treatments including complex peripheral vascular interventions using advanced atherectomy techniques, critical limb ischemia, and limb salvage.
His passion to provide patients with customized, individualized care at a lower cost than hospitals led him to operate as an independent cardiologist, and he has established the San Angelo Cardiovascular Center of Excellence to provide the most innovative diagnostic tests and minimally invasive treatments available, all in an outpatient setting.
Cardiology Associates of West Texas
Be sure to check out Dr. Leon's medical practice, Cardiology Associates of West Texas.